Take a behind-the-scenes tour of a home decked out with colorful mosaics.
Known for its picturesque water canals, unconventional bars, and eclectic shops, Venice is one of the most popular—and quirky—beach towns in Southern California. And the aptly named
Mosaic Tile House
is right in line with Venice's eccentric reputation. Envisioned by local artist Cheri Pann (who has had more than 20 solo exhibitions in California and Japan) and her husband and fellow artist Gonzalo Duran, the 1940s home is bedecked with splintered-glass mosaics and colorful tiles from top to bottom. The passion project began in the 1990s when Pann created a tiled bathroom—and it's since taken on a life of its own. The husband-and-wife team use the house as a live/work studio, but it's also available for tours on certain days.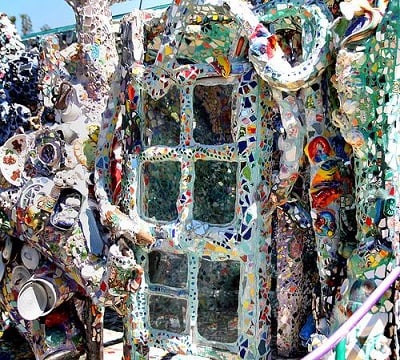 The artistic duo created the mosaic masterpiece by using handmade and recycled tiles, flattened bottles, mirrors, toys, and other everyday objects to create unusual, eye-catching mosaics that now pepper the place. Those who take a tour will find an eccentric, eye-popping attraction that broadens the idea of what a home can be. From ceiling to floor, the house is a kaleidoscope of color and whimsy. No stone is left unturned, quite literally: even the fence and courtyard floor are frosted with mosaics.

Start out in the front gateway, where multi-colored tiled columns set the stage for the rest of the residence. The front porch shows off a rainbow's worth of colors, from orange and blue to green and yellow. There's even a mosaic tile front bench so guests can sit in style.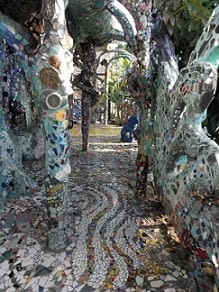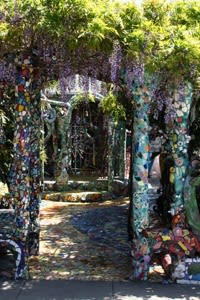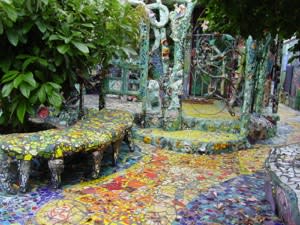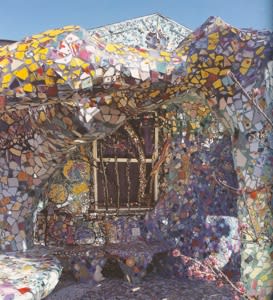 The fun continues inside, where a colorful kitchen is accentuated by a beanie baby wall. Some of the walls feature intricate mosaic patterns, while others simply showcase a mismatched array of colorful tiles. The house is off the beaten path but is not to be missed by anyone looking for a colorful, unusual folk art tour. Luckily, there's also a gift shop where you can purchase pottery made by Pann and her husband.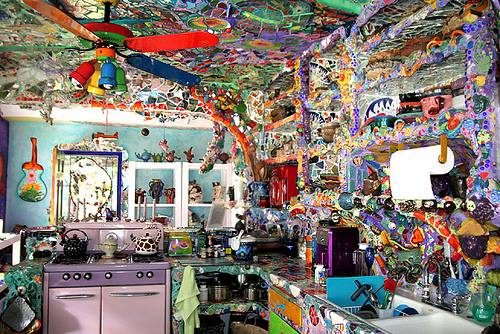 The house is currently open for tours each Saturday from 1 to 4 p.m. Tickets cost $20 for adults and $15 for seniors. Children under 12 get in for free.